The "Great Escape" Package:
Are You Trapped in a Loveless Relationship?
Find Your Way Out to Make Room for Love in Your Life!
In the wrong relationship and keep hoping things will change?
Staying in a relationship because it is convenient or you're afraid of being alone?
Struggling with how to let your partner down easy without hurting their feelings?
Wondering how to end a relationship and prepare yourself to move on?
Afraid to speak your truth and let go?
I'm Renée Piane, and I'm here to be your guide and help Reinvent Your Love Life if you're in a dead end or unhealthy relationship.
You MUST plan your Great Escape in advance before you just suddenly leave a relationship. This is surely a time of healing and growth and, depending on the type of separation, there is a necessary adjustment period before you are fully ready to move on to another relationship.
It takes time to absorb the shock of suddenly living alone and not having that person around. I know what it takes to get in touch with your heart and start a new life style . I am ready to share my secrets and my personal journey with successful, busy wonder women and super men who are ready to create a new love story.
Allow me, to be your guide with my "Great Escape" coaching program. I will prepare you in advance with a support system as you go through this transitional period. I'm proud to say after almost two decades in the love business and years of serious love investigating, I've helped thousands of people find true love.
In The "The Great Escape" Package You Will Learn How To:
Get prepared in advance before you break up
Create a support system to help you through the transition
Find the right time / place to have the break up discussion
Get in touch with your heart and be sensitive to your partner
Master you verbal communication and listening skills
I show men and women of all ages how to go beyond the break up and get in touch with your heart and be sensitive to your partner as you create a vision and attitude for your new life style.
I will show you how to find the right place and time to have the break up discussion, and how to be prepared in advance before the break up by learning Smart and Graceful Break Up Strategies.
I'll Take You By The Hand Every Step Of The Way As You Let Go And Move On!
So Let's Get You Started With My
90 Minute Coaching Special!

Contact Renée at the office or by email and we can set up your session today! Let's create your new love story!
Mark Victor Hansen, Co-Creator of the #1 Bestseller, "Chicken Soup for the Soul", says "Renée is able to offer very insightful 'power tools' and the reader is given the insight to use them to change their relationships and achieve success in love."
If you're ready to make a shift now … Let's design your Great Escape!
No one really teaches us how to break up easily with love and respect. You will be more centered and ready life to start over again with an action plan and all the support you need to Move On!
The Great Escape Package Will Help You Communicate Your Desires With Your Partner, Transition Out Of Your Relationship, And To Begin A New Life.
I will design a personalized program to reinvent your love life with my GREAT ESCAPE Coaching Package.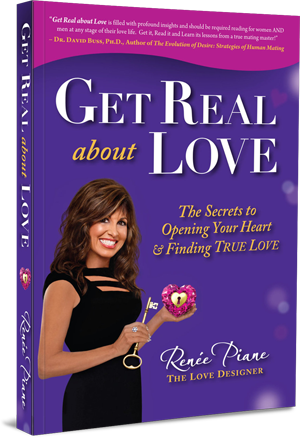 You Will Also Receive My:
Get Real about Love book sharing The Secrets to Opening your Heart and Finding TRUE LOVE
Downloadable recordings from our sessions
Access to all of my other services and resources
Create an Action plan that will always be perfectly tailored to your unique situation, personality and goals
Let me help you create your life and love vision to overcome your dating and love challenges in- person, by Skype or by telephone. I work with a limited amount of clients each year and I'm proud of the thousands of success stories.
Join Me On The Journey To A New You With "The Great Escape" Coaching Package.
Don't waste another minute of your precious life or stay in a dead end relationship! Contact me now to design a plan to reinvent your life. We will expand your new support and social network to get you prepared in advance before you break up.
P.S.
Do you need to be old and alone before you decide to get help from someone to save you from loneliness? You're not alone with me and your support system.
P.S.S. If you're ready to develop communication skills and learn to keep positive and energized through this transition, join me today in "The Great Escape" package!
Let Renee's laser focused "Get Real"advice help you get control of your love life now! You can meet Renee for a live session or by phone or skype. It is easy!