Renée Piane ~ The Love Designer, International Relationship Reinvention Expert ~ is available for interviews to pass on her years of experience and wisdom to your audience. With her direct Get Real style, Renée will add some powerful heart opening insights from her new book Get Real about Love—The Secrets to Opening Your Heart & Finding True Love.
Media Contact: Mark Politi – Mark Polti Public Relations
Phone: 424-260-MPPR ( 6777) Email: MPPublicRelations@Gmail.com
Renée Piane, the Love Designer, is a master at connecting people and a pioneer in the dating industry. She's is an internationally known love and relationship reinvention expert that works with high-powered clients and celebrities all over the world who are getting back in the game of love or want to reignite the spark in their existing relationships. As the pioneer and president of Rapid Dating & Networking, she is also a sought-after inspirational speaker and author of Get Real about Love—The Secrets to Opening Your Heart & Finding True Love and Love Mechanics. With 29 years of experience in the love and networking industry, Renée has dedicated her life to helping people find love and has successfully matched thousands of life partners and the services they need during the reinvention phases.
Renée was listed by the Wall Street Journal as one of the eight best resources for single men in America and she has been featured in, and on, major media outlets that include CNN, NBC, ABC, the Today Show, MTV, Lifetime, FX, Discovery, the Los Angeles Times, the New York Times, Cosmopolitan, Men's Health, and many others.
Topics Renée Piane Can Discuss in Interviews:
"Get Real about Love": What People Need to Get Real about Before Finding Love
The 5 Secrets to Getting Back in the Dating Game After a Bad Breakup/Divorce
Do you have the "Once I…" Syndrome? (What is Your Excuse for Putting Love in the Future?)
Why Your Love Lineage Could Be the Reason You've Never Found Love
How busy successful wonder women and supermen can stay balanced and connected while juggling their career, love, romance, and family!
The Negative Rejection Monster: Who's Speaking in Your Love Conversations?
Healing Your Heart: The 5 Steps to Creating a New Love Story
"Get Real" in the Dating Game: Telling the Truth about What You Want without Scaring People Away
Are Your Negative Friends or Family Destroying Your Love Life?
5 Tips to Market and Rebrand Yourself When Re-entering the Dating Game
Daily Rituals to Help You Manifest Love or Reignite the Passion in your Current Relationship.
The 5 Sure Signs you are in a "Love Loop" and How to Break the Patterns
Press Information & Photos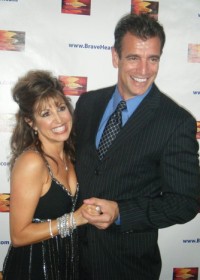 Renée's Demo Reel on a variety of TV shows and red carpet events.
BraveHeart View TV discussing the 7 Mis-Takes women make while looking for love.
Burman And Burman Show: Renée offers Dating Do's and Don'ts.
The "10" Show [NBC] : Renée offers love tips from her book Love Mechanics.
Channel 13 KTLA News : Renée offers tips to turn your home into a romantic place for Love!
Channel 13 KTLA News: #1. At Fredrick's, Renée guides men on how to buy lingerie; #2. What to wear on a first date.
The Other Half [NBC]: See Renée perform a hilarious "Love Nest Tune-Up" with Dick Clark & Danny Bonaduce.
CNN: Renée offers advice for lonely singles on Valentine's Day.
"Eye On LA" [ABC]: Renée makes-over a single man and test drives his dating skills at a Rapid Dating event.
Renée in Print & Magazines
Below, you will find a number of articles from high profile magazines and newspapers around the world that feature Renée's love design services and direct advice. Would you like to interview or have Renée offer some spicy and direct advice for your publication? Contact Renée online to let us know! She's has true stories and insights that will shock and inspire your readers!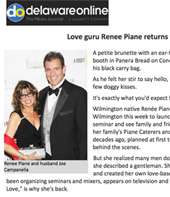 New York Times
Men's Health (4 columns)
Los Angeles Times (3 Feature Stories)
Honey Magazine
Philadelphia Daily News
Cosmo
News Around the World
News Day
IVillage
Entertainment Today
Arizona Tribune
Awareness Magazine
Delaware Women
Santa Monica Mirror
Santa Monica Observer
Columbus Dispatch
Arizona State Press
LA Dating Guide
Gazette
La Splash
Access Magazine
Orange Coast Magazine
Goddess Queen
Arizona Weekly
Complete Woman
Inside LA
La Singles Society
Beverly Hills 90210
Pasadena Weekly
Prime Life
Renée has her own Radio Podcast on iTunes entitled "Love Mechanics" to help you to reinvent and tune up your love and social life! This 24/7 online radio show offers direct Dating Advice & Hot interviews with top experts and authors

in all fields relating to singles love, dating, sex and relationships advice. Subscribe Now and you can hear years of wisdom from internationally known Dating and Love coach, Renée Piane (author of Love Mechanics and Get Real about LOVE). We offer powerful tools to create relationships that work in all areas of your life. You can send in your love and dating dilemmas to Renée here or call our hotline at (512) 827- 0505 ext. 6869 and leave your love challenge or questions for Renée!
Renee's Radio Interviews On Various Networks:
KROQ Kevin and Bean Show – Valentine's Day
Playboy Radio Network
The Valentine Show
The Aware Show
Women's Radio Network – Love Mechanics Radio show
SPIRIT QUEST RADIO with host Elena Pezzinni
Dr Tranquility's Radio Show
LOVE CONNECTIONS-Dating, Relationships and More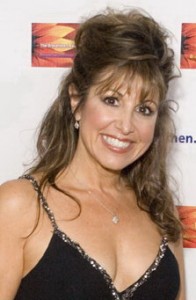 Interview Renée Piane
If you'd like to interview Renée for your publication, TV/radio show or book her for a special speaking engagement contact:
Media Contact: Media Contact: Mark Politi – Mark Polti Public Relations
Phone: 424-260-MPPR ( 6777) Email: MPPublicRelations@Gmail.Com or Contact Renee to schedule an interview with Renée Piane.
We would love to hear from you!