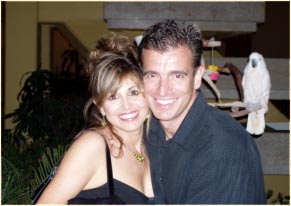 Our love story is the kind movies are made of and, considering that I'm in the love business, it warms my heart to know that fairy tales do come true! I am formerly from Wilmington, Delaware and moved to Los Angeles over twenty-seven years ago to help people connect in the city of Angels. Just like the single souls that I now cater to in my Love Designer business, I was challenged in my search for the perfect match. My single status was constantly questioned when I appeared on TV or radio shows as well as by my dates. How could I still be single if I was a dating expert? I was never disturbed by this question because I knew that I would know in my heart when I met the right man. Also, I was happy and confident being single until I met my soul mate! In fact, I was on a mission to change the stigma about being older and unmarried. I loved my life and wanted to design it my way.
The story begins with the sudden news of my mother's death just before Mother's Day in 2002. I knew my mom was having routine heart surgery but I was flying in the following week for my Aunt BeBe's wedding. My mom said, "Don't worry I'll be fine. I'll see you in five days." I was scheduled to appear on Dick Clark's show the day of her surgery and she insisted I stay for the taping. Tragically, we lost her that day.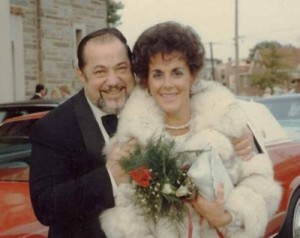 My entire family was devastated by the loss and my aunt's wedding was delayed until August. Fortunately, my luck started to change when I returned to my home town for my Aunt's wedding and well promoted Rapid Dating event, both of which were awesome! After the wedding, I was asked to go to Dewey Beach Delaware on a date. I got a ride with my cousin Gina and was staying at my godfather's place, where I had vacationed growing up!
My date was very late and was unwilling to pick me up at my Aunt and Uncle's trailer, claiming that it was out of his way and that "he could not believe I was staying in a trailer park." I am Italian and you don't insult an Italian's family…EVER! Needless to say, I cancelled the date.
That night, I went to dinner with my family and had an intuition to stop at one of my old stomping grounds, The Rusty Rudder in Dewey Beach. It was a full blue moon and the water was sparkling with the light from the moon. We arrived at 9:15 pm and ran into a handsome man named Joe Campanella, who I had first met at his cousin's wedding 20 years earlier. He told me that he had seen my picture in the paper but couldn't attend the Rapid Dating event since he was on vacation for his son's birthday. I was playfully flirting, telling him I had a fond memories of meeting him and had an attraction to him at the wedding so many years before. Taking the bait, Joe flirted back and we exchanged numbers. It was a chance meeting and I took the opportunity to express my interest, which is the action that changed my life forever. While I felt "the magic" after running into each other, I was leaving for LA the next morning and the reality was that he lived 3,000 miles away.
A wave of sadness came over me because I knew most long distance relationships can be an adventure, yet I didn't want to fall for a man so far away. I was very attracted to him and knew I could connect with him but wanted to take my time. Also added into the mix, was the fact that Joe was in the middle of a challenging divorce. So, I tried to keep it all in perspective and take in the moment. That night, I was wide awake looking at the magical moon with the "what ifs" twirling in my mind. Since I was a little girl, I always made wishes to the moon and on that night, there seemed to be some kind of magic in the air! I could hardly sleep and wrote in my journal, "I think I may have met my husband tonight."
Joe was surprised by his attraction to me because, as he says, "Before meeting Renée, I was not in the frame of mind to meet someone or develop a new relationship because of my situation. But something unusual happened that night back in Dewey Beach, DE that to this day, I cannot explain. After we met, I stated to her that I wanted to get to know her from the 'inside out' and 'date her the old fashioned way.' I asked her out for a date the following Thursday, August 14. I worked for a company in Northern California and just so happened to be coming out West four days later. 'Why not have dinner?' I just wanted to get to know her as a person first. After about a month of just dating and communicating, I knew I met my 'soul mate.'"
The epiphany that night was euphoric! We took our time to explore the renee_joe_wedding_smrelationship and followed the Get Real about LOVE Secrets that I share with my clients. We knew we were meant to be together and in January 2003 (only 6 months later), Joe was offered a new position at Oracle in Southern California, a mere seven blocks from my house. And the rest, as they say, is history! Was it Fate? Destiny? I believe my mother orchestrated our meeting from up above.
I always advise people to be grateful for each moment of your life. Even when you don't have a mate, act as if you already have that special love in your life and it will show up. That is the secret! I know it's not easy to keep the faith, especially around the holidays. If you believe in LOVE before it comes and prepare for it mentally, physically and spiritually, it will magically show up at the perfect time! Who knows? Someome from your past may come back into your life or you could meet someone while getting a cup of coffee or walking your dog. Just stay open, get ready for love and seize the opportunities that come your way. If you meet someone and have any inkling of a connection, speak up and say something. Just a simple hello or a smile can open doors! LOVE can show up at any time or place!
I waited my whole life for a man like Joe and I am very blessed to have such an amazing partnership. We are here to be role models for extraordinary love. Together, we use each moment to express our love for life and our families. I had done a lot of inner work on myself and was committed to finding a man who encouraged me to be me. He came into my life and asked me to marry him in front of his family at his parent's 50th wedding anniversary on September 18, 2004. We were married the following year and are now happily living in Marina del Rey, CA with our amazing dog Buddy. We are so happy to share our love story and help inspire you to believe in LOVE! Our life together is very sacred and we celebrate it by renewing our wedding vows each year. Joe is my rock and my resting place. I'm so lucky to live my passion every day and spread love throughout the world with him by my side. I always say, "I'm out making magic, what are you doing?"
I share our story to help singles out there to BELIEVE in LOVE! I have so many GREAT love stories to share and I'd like to hear yours. Please send us any inspiring stories to help keep those flames of hope blazing! I teach the process I used on myself to help others transform their lives. Let me help you manifest the love of your life. Contact Me and let's make some magic happen for YOU!
Renée Piane, The Love Designer