Secrets Into The Minds of Women
TELESEMINAR On Zoom FOR SINGLE MEN!
Scheduled Soon!
5:30 Pm – 7:30 Pm PST

STILL SINGLE? Not Getting RESULTS With Women?
Are You Looking To Find The Love Of Your Life?
Got Dumped And Lost Your Confidence?
Back In The Dating Game And Need Some Real Guidance?
Learn The "Secrets into the Minds of Women from Renee Piane
the award-winning love coach. Renee invites some wonderful women to join us to answer your questions about attraction, and what turns women on and off!
Ask Questions.
Gain Insights
Receive Amazing "Get Real" advice that will change your life!
SECRETS INTO THE MINDS OF WOMEN
LEARN WHAT WOMEN REALLY WANT!
Join Renee Piane live on CLUBHOUSE
This LOVE TUNE-UP Seminar is for Men Only and the women that want to join us! to share your thoughts! CLUB HOUSE  
You will uncover the secrets of how women process to help you Win in the Game of Love! I have been teaching men the tricks of the trade for over 29 years.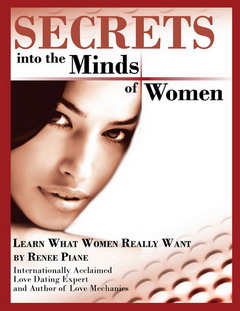 I Am Here To Inspire Guide And Offer You Powerful Tools To Get Results!
MAXIMIZE your power, inner confidence & sex appeal to attract women like a magnet!
MASTER your thoughts, words & flirting techniques that eliminate the rejection factor.
GET DATE READY – Your first impression is a lasting one!
IDENTIFY the clear signals and timing to know you have a "green light"!
DISCOVER your personal goals & achieve success with women!
LEARN how to clearly communicate your vision and goals
GET RESULTS when you approach women live or on dating sites and apps.
YOU'LL KNOW where to go to meet available/healthy women
CLOSE THE DEAL and make her come back for more.
Question and answer period ONLY$25