Dear Renee.
I have always wanted to attend your Cocktail parties and Networking events, but I am not good at starting conversations or small talk. Any guidance on how I can improve my social skills?
Shy guy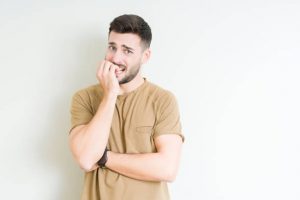 Dear Shy Guy,
Lots of people are not great at small talk and chatting when they attend social events or meet strangers. That is the reason our events are successful since we make it easy for you to meet people in 5-minute sessions with no pressure. The biggest fear is rejection, and these events are a rejection-free zone. If you have been studying for years and never developed your social skills no worries you can start NOW!
Have you ever wondered…Why do people walk away and leave you standing alone?
It is time to examine your beliefs and see if you feel that you are an interesting person.  Ask yourself these questions to do a mini assessment of yourself to see if you are contributing to people blowing you off or not wanting to connect with you. How you think and feel about yourself is a key to success with others. Be honest!
Do you think you are an interesting person to talk to?
What makes you unique? List your best qualities.
Have you ever listened to your voice? Are you boring to listen to or have a monotone voice?
Do you feel confident in yourself?
What do you use as your standard opening lines when you meet new people? Will your opening question keep this person conversing with you?
Are you good at asking questions? Do you ask questions that require a "yes" or "no" answer only?
Are you aware of the invisible "energy vibes" you send out when you are out connecting?
Do you feel confident and put together style-wise when you go out to meet people? Do you think you have a sense of style that attracts people? If you know you may need some help or honest feedback? (Contact me for an image consultation and an assessment of how you are marketing and branding yourself!) I don't bite! I only wiil empower you! I Have been conducting image makeovers for over 30 +years  and I promise I can update your image with a short shopping spree to update your style before the fall season kicks in. As the upcoming holidays begin you will need to dress for success at upcoming family events and parties. Just some sharp wardrobe updates (for both men and women) absolutely increases your confidence and your success to attract people to date! Get prepared in advance for success in business and to find love.
Do you have friends or a coach that will give you honest feedback? It's time to Get Real and take action
Would you consider getting honest feedback from an Expert coach/Consultant?
After being honest with yourself, practicing your skills, and refining the way you view YOU, you must remember it takes time to build that confident feeling.
Most people that have that "edge" have obviously been working at this game a bit longer than you. They also carry another important key that you must add to the mix and that is…STAYING UNATTACHED TO THE OUTCOME and have fun with people with NO Pressure. When others see the nervous or anxious "vibes" coming their way…they will run FAST! When you are calm, cool,,and collected, they might just hang in there for you to be able to connect! It is often a combination of negative thinking and fear of rejection that will keep you alone! You can build confidence with practice and patience.
People want quick fixes and my Two books Get Real about Love" and my first book for men Love Mechanics has many answers to the hundreds of emails I receive about various topics related to dating and understanding rapport and connecting with people. Both of my books have interesting questions for you to ask yourself to check how you feel about yourself and to discover more about yourself and the people that you meet! This is where the process begins…with YOU!
Contact me if you'd like a private phone or live in person or a discovery Zoom session to detect the obstacles you're experiencing and assists you to overcome them quickly! Call me if you need more support! I'm here to help with direct and supportive advice that has worked for hundreds of singles in the privacy of their own homes. Also be on the lookout for our monthly online live Flirting with Life and Networking Seminars. In the next few weeks my new Ebook "THE Art of Flirting with Life & Neteworking will be on sale offering Time tested Advice to make great connections! I also will be hosting in-person Rapid Networking events in Los Angeles on the Westside. Get on my mailing list at Reneepiane.com. These events will be posted online soon!
Have a love or dating question? Need a Make Over? Email Renee@ReneePiane.com. Still Single? Suddenly Single? Want to liven up your love life? Join us at Rapid Networking events, held in cities in Southern California and son in Las Vegas. Get on my email list at ReneePiane.com so you can be invited to live and online events!
Keep your heart and energy open and attract more Love and new people into your life! I'd love to hear from you and meet you live at one of my events! Life is forging ahead so take new chances and who knows what could happen Keep me posted on your breakthroughs! xo